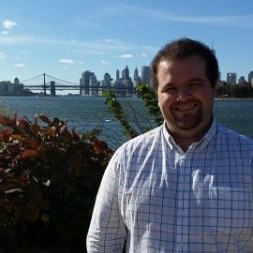 Benefits of a Managed Service Provider For Every Business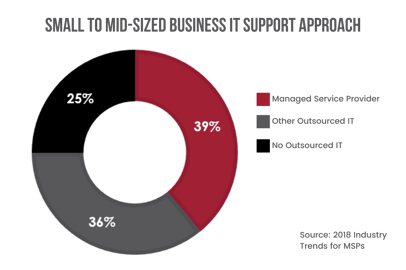 75% of small and mid-sized businesses report using some type of outsourced IT partner, and 39% are working with a managed service provider (MSP). [Source]
Why are so many businesses seeing the need to outsource their IT?
Of the businesses choosing to invest in a partnership with an MSP, what benefits do they see?
What Does Your Business Struggle With?
As a small or mid-sized business owner, you most likely view IT in one of two ways.
You embrace technology. You want to harness the power of technology to drive your business forward.
You resist technology. It is a necessary evil. It only causes problems and you want to use as little of it as possible.
If you already embrace technology, you might struggle with:
How do you know you're using the best tools, equipment, and applications for the job?
What will happen if your systems go down for some reason?
What can you put in place to protect your systems from going down in the first place?
Is your team using technology to its fullest potential?
If you resist technology, you might struggle with:
Technology expenses.
Lack of technology awareness or understanding.
Fear of change associated with embracing technology.
The following symptoms typically result from these challenges:
Duplicate processes (i.e. manually entering data in more than one place).
Slow, sluggish devices.
Software and application errors.
Lost or missing data.
A managed service provider (MSP) meets you where you are with technology. They'll provide the strategy and support so technology can work for you rather than against you.
Benefits of an MSP
You didn't start your business because of your vision to use the latest version of Microsoft Windows every day. You're not driven by a passion for building redundant networks that guarantee your remote employees can access company data.
You started your business with a vision to deliver your product or service better than anyone else. But you can't do that if your computers are always crashing, or your employees can't access client information when they're working in the field.
An MSP is your partner in achieving that goal. They are with you as a business partner to make sure that you have the technology you need when you need it to turn your business vision into reality.
Is your vision to sell insurance better than anyone else in your region? Your MSP will figure out the best way to securely exchange data between your agents in the field and your main office.
Is your vision to build houses better than anyone else in your state? Your MSP will tell you what email service is best to send blueprints and spec sheets to your subcontractors. You will work with your MSP as a partner in your business growth and success. There are three key ways you'll benefit from this partnership.
1. Competitive Edge
Your competitors are using technology. But are they using technology to do things better, faster, and cheaper? Working with an MSP who incorporates technology into your business strategy gives you a competitive edge. Technology changes faster than most businesses can keep up with. Your MSP not only lives in technology every day, but they thrive off it.
For example, if your MSP notices you're struggling with a slow connection to a cloud application, they can evaluate options for faster internet speeds or hosting data locally. This speeds up processes for your employees allowing them to work more productively than your competitors.
MSPs know the latest trends and tools available to improve your business. They can advise you on the latest tools that can offer the best return on investment. This gives you a huge advantage over the competition that's still struggling to keep Windows Vista relevant. That's right, I made a Windows Vista joke!
2. Scalability
OK – so you have a vision. You have the right technology to implement your vision. Now what happens when you succeed, and your business grows? One day you're a small business ready to hire your first few employees, and the next you're building departments and executive leadership.
An MSP knows when it's time to purchase a server and centralize your document storage. They know what backups solutions are best for different amounts of data. They know how to administer and manage a centralized network that makes bringing on new employees and limiting access to sensitive information as easy as a few clicks of a mouse. These are the kinds of things an MSP can identify and forecast into the business model so that there are no surprises when you hit growth milestones.
3. Business Continuity
You're using the right technology to achieve your business goals, and your MSP helps you scale technology as your business grows. But what happens when something isn't working just right or you're not getting the intended result? MSPs monitor your network and its health.
They proactively identify and address security threats and performance issues. They offer a team of people working on your behalf to proactively manage your network. They're also available to react to any issues you do notice through their help desk team.
Common Misconceptions About MSPs
You may have the following misconceptions about MSPs and technology in your business.
---
Misconception: My business is too small to need an MSP. Technology doesn't play a major role in my business.
Truth: A managed service provider aligns with the size of your business, the scope of your technology, and your business goals. The scope of their service is right-sized to the size of your business and scope of technology.
---
Misconception: An MSP is too expensive. Plus, they'll expect me to buy into even more technology in my business.
Truth:
MSPs make recommendations of the technology you need based on your unique needs and goals. Instead they offer a strategy to adopt technology that drives business growth business and doesn't hinder it.
MSPs do charge a fee for their services.
They will also expect you to keep your technology up-to-date. BUT – you should see positive results in your business from adopting their recommendations. If budget is an issue, they work with you to prioritize your needs and develop a multi-year technology plan that fits with your budget.
---
Final Thought: An MSP is an IT Partner in Your Corner
You know how frustrating it is when technology isn't working. As fun as it can be to hit things with a hammer, that doesn't do you or your business any good. A managed service provider is a teammate invested in your success.
When your business scales beyond your home office, you're going to need IT support. Partnering with an MSP lets you focus on the goals you have in your business and gives your employees the support for the tools they need to do their best work.
MSPs let you focus on running your business while they give you the right technology to succeed. There is no one size fits all IT solution for any business. If your goal is to grow and compete at the highest levels, an MSP can deliver the technology you need to achieve those goals.