What is a Managed Service Provider?
Technology Strategy | Business Strategy | Outsourced IT Support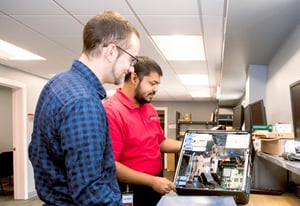 A managed service provider, or MSP, is a third-party that delivers an essential business function. Usually this refers specifically to IT functions. MSPs work under a subscription model, rather than a per-hour or per-call rate charged by on-demand or break/fix vendors. With on demand service providers, response to issues as they arise can cause unpredictable costs and outages. By contrast, an MSP is a business partner that proactively manages and assumes responsibility for an agreed upon set of services.
Under the umbrella of IT managed services, you may find the following IT functions:
Network and Infrastructure Management

Help Desk and Support

Cybersecurity

Compliance

Software Support, Development, and Management

Hardware as a Service

Communication Systems (voice, video, and data)

Print and Copy Management

IT Strategy
Some MSPs specialize in one or a select few managed services. Others are generalists that specialize in IT system functionality and offer a broad scope of services. We will detail the two types of MSPs below.
General Managed Service Providers
A general Managed Service Provider (MSP) is a complete, outsourced IT department. They handle everything that an internal IT department does.
Roles and Functions of an IT Department
Chief Information Officers (CIOs) run internal IT departments. They are the voice of IT for the strategic direction of the organization and set the priorities for the IT team. Under them are several department heads.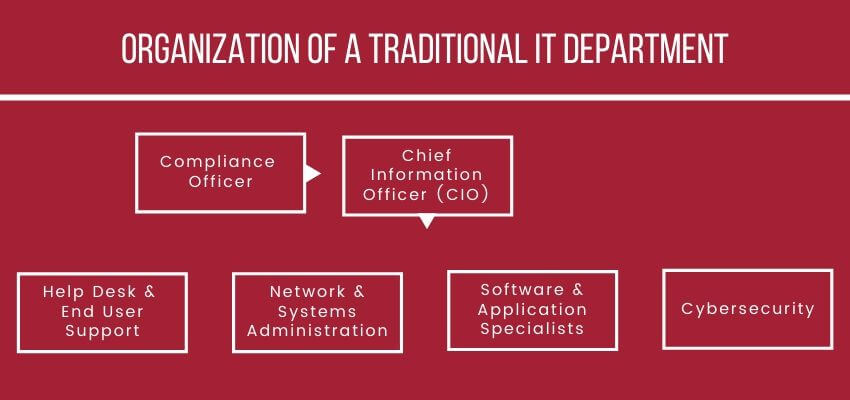 IT department heads are responsible for different functional areas like:
Help Desk and End User Support

System and Network Administration

Cybersecurity

Software and Application Services
IT departments also work closely with compliance and regulatory professionals. Compliance officers are responsible for managing risk and following regulations. Regulatory guidelines apply to most electronic data. IT policies, procedures, and security are key components of any compliance officer's work.
The Role of an MSP in Place of an IT Department
The industry average IT support to employee ratio is around one IT support resource to every 70 employees in the company. This means that large organizations can support robust IT departments. Small and mid-size companies can support only one or two full-time IT resources.
This is where an MSP comes in. An MSP offers more staffing depth and scope than one or even a few internal resources can offer. But MSPs right-size their scope of service to fit the needs and scope of almost any business.
The Role of an MSP in Partnership with an IT Department
An MSP can but doesn't always replace an internal IT department.
Large organizations with a robust IT department partner with MSPs for the following reasons:
To supplement an internal team during peak workload times.

To provide strategic direction to a tactical internal team.

To outsource specific IT functions.

To bring new and different opinions and best practices to the table.

To mitigate the risk of relying on one or a handful of people.

To advise the executive team on IT decisions.
These MSPs are sometimes called co-managed or partially-managed service providers. They don't replace an internal team. Instead they manage a part of all IT functions, or partner with the internal team to manage IT functions together.
Functions of a Managed Service Provider
OK - you get it. An MSP is basically one giant IT department supporting many different businesses. But what do they really do?
Related Article: Here is a real-life example of what an MSP does in any given week, A Week in the Life of an Outsourced IT Vendor.
Network and Infrastructure Management
A managed network provides the type of connectivity and data speeds you expect to run your business. An MSP proactively monitors your network and takes corrective action on potential problems before they impact your business.
An MSP monitors and manages:
Where you store data

How often and where you back up data

How all the pieces of your network are connected.

Where and how redundancy is built into the network.
Help Desk and Support
Every employee in your company will have access to your MSP's help desk. Help desk techs can often resolve issues remotely within a few minutes of the call. They'll elevate more complex problems to a higher-level tech or deploy a technician to come fix the issue on site.
Your contract with your MSP defines a Service Level Agreement (SLA). This commits them to respond to requests for support within a designated timeline. A good MSP should commit to resolving critical requests within hours. This ensures your business experiences maximum uptime.
Cybersecurity
An MSP offers a basic level of cybersecurity adequate for the average business. They handle end point antivirus solutions and malware detection. They manage your firewalls. They recommend backup and disaster recovery plans. They also make sure security patches are up to date and that you're adopting the necessary security for your type of business and data.
Compliance
Your IT company can play a huge role in compliance with regulatory requirements like HIPAA, PCI, GDPR, and others. While compliance is ultimately your responsibility, your MSP should have a good understanding of the regulations that apply to you.
They should:
Understand what IT systems are needed for compliance.

Know what and where protected information is stores.

What level of data protection is required.
Your MSP provides the necessary scans and audits to meet your compliance requirements. Some MSPs may even offer add-on compliance-related services.
Add-on services might include:
Developing internal policies and procedures.

Conducting physical security assessments.

Delivering required training activities.
Software Support, Development, and Management
MSPs manage software licensing and Software as a Service (SaaS) subscriptions. This includes necessary software patching and license renewals to keep your tech stack functioning. They may even offer some off-the-shelf software licensing and subscriptions. Microsoft products are the most common example. You can likely purchase Microsoft Windows upgrades and Office 365 subscriptions from your MSP.
Some MSPs offer custom software and application development. But this is a very customized service. Usually these types of MSPs specialize in serving a specific industry that uses their software.
Hardware as a Service
Hardware prices are decreasing as the need for more frequent replacement is increasing. You may spend less on the new computer you buy today but expect to buy another one again in three years. Many MSPs offer hardware and equipment as part of their flat monthly rate. This helps businesses manage hardware investments and cash flow. This is the same model that the cell phone industry has used for years. You pay one monthly fee that includes the device, service, support, and the option to upgrade when newer technology becomes available.
Communications Systems (voice, video, and data)
Over the past decade, office phone systems have become more integrated with IT systems. Video conferencing and data communication are also essential components of business networks. This makes communication systems part of an MSP's area of responsibility.
Print and Copy Management
Copying was once a stand-alone function, separate from the IT network. Early printers connected directly to individual devices. Today, print and copy functions integrate into the network. Like communications, they are managed part of the IT system, and not as stand-alone functions. Many MSPs offer managed print and copy services. Some even sell and lease large, multi-function office printers and copiers.
IT Strategy
An MSP takes responsibility for the maintenance and functionality of your entire network. They essentially fill the role of the CIO. It's their job to stay ahead of technology changes that will impact your business and help you plan to best leverage your IT resources.
Specialized Managed Service Providers
MSPs that specialize in a specific function offer advanced expertise in that area. Cybersecurity MSPs, usually called Managed Security Service Providers (MSSPs), are a common example. They're an MSP that specializes in the security component of IT functions. These providers offer a deeper level of security functions and services than a general MSP.
An MSSP provides security services like:
An MSSP or any specialized managed IT services provider, isn't an alternative to an MSP. You must have those basic IT functions managed, either by an MSP or an internal IT team.
General MSPs and specialized MSPs do not compete with one another. They have the same kind of relationship as your primary care physician and your allergy doctor. One oversees your general health. The others treat specialized needs unique to each person.
Much like a primary care physician, an MSP often partners with or refers clients to other types of specialized providers. A strategic MSP identifies areas where the business needs more specialized support. They then suggest an appropriate solution, even if they can't provide the service themselves.
Next Steps
Your need for more management, oversight, and planning around IT systems will grow with your business. Don't wait until you are growing so fast that you feel like your systems are too complex to make a change. You may be handling IT fine today. But one day you'll get that feeling that things aren't working quite right, or that there is a better way. Follow your gut when you start to get a sense that IT is getting too much to handle. Evaluate your options when get the sense that technology could do more for you.
Don't wait until your business is operating on antiquated systems. Don't wait until disaster strikes. An MSP scales their scope of work with your business. They can meet you where you are today and be the resources you'll need when you've hit your 5- and 10-year growth goals.