A Week in the Life of an Outsourced IT Vendor: Part I
You've reached the point where you know your business needs some more sophisticated IT support than your current model can provide. You've evaluated the options, and are considering working with an outsourced IT vendor or managed service provider.
An outsourced IT vendor can handle a lot of different functions for your business, but you're struggling to evaluate the return on the potentially significant investment you're about to make in their services.
A quality vendor has the capacity and expertise to provide:
24x7 Support
On-Site Tech Support
Industry Compliance
While those services sound nice, you may still struggle to wrap your head around what exactly this service provider will do for your business and if their services are worth the investment.
In this 3-part series, we'll give you a picture of what an outsourced IT vendor does by summarizing Innovative, Inc.'s activities during the week of June 23-29, 2019.
Each part of the series provides real-life examples of problems solved by Innovative's three customer-facing teams - Part I: Service Team, Part II: Strategy Team, and Part III: Project Team.
Part I: Service Team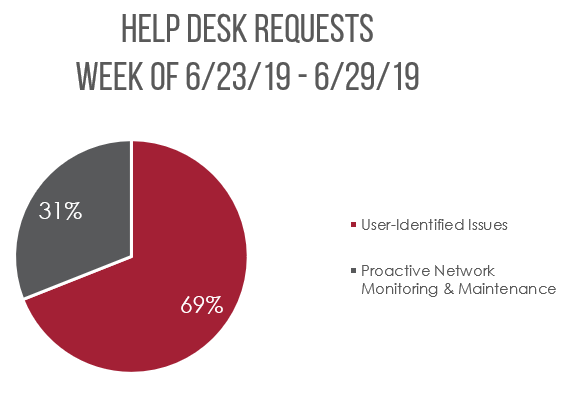 Innovative's Service Team responds to end users' day-to-day technology challenges and questions. Additionally, they conduct regular systems and device maintenance and respond to and address alerts generated from our network monitoring solution.
The week of June 23 the Service Team:
Addressed 306 help desk tickets
Assisted 102 different companies
69% of the tickets were user-identified
31% of the tickets were proactive fixes from oversight of the customers' networks
User-Identified Issues
Remote Support
Most user-identified issues are solved remotely, often in just a few minutes.
Issues we resolved remotely during the week of June 23 included:
Granting users access to shared folders or applications on the network
Installing or updating software
Updating drivers/reinstalling software to correct audio or display issues
Blocking specific websites from employees
Adjusting PC settings to correct printing and scanning issues
Fixing and setting-up VPN connectivity
Fixing applications that were not opening properly (i.e. Quickbooks, Outlook, etc.)
Completing domain registration renewals
Resetting users' network passwords
Setting up network logins, file-share permissions, and email accounts for new employees
Changing user permissions to access specific files or data
A fully-staffed help desk includes level 1, 2 and 3 support. Simple issues are usually addressed instantly by any member of the team who takes the call. More complex issues are escalated to level 2 or 3 technicians with more specialized skills or scheduled for field service to report on-site at the customer's location if the issue cannot be addressed remotely.
On-Site Support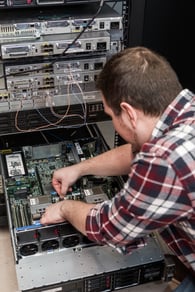 When a tech is needed on-site to fix a problem, the tech is deployed based on the availability of a qualified technician and nature of the issue. A quality outsourced IT vendor will establish a Service Level Agreement (SLA) with you. This sets a timeline and expectations for addressing various types of issues. For example, a tech reports on-site within the hour for a critical, system-down issue that is preventing your business from operating, while we may schedule a tech to come the following afternoon to address a printer issue when there are acceptable backup printers available within the facility.
Identifying a company with an SLA that meets your requirements for maintaining business continuity is one of the most essential pieces of selecting the right type of IT support for your business.
Examples from the Week of June 23
The week of June 23, most issues requiring on-site support were related to phone systems, about 60 phone system issues in total. Examples include voicemails not forwarding to the correct person, or users needing assistance setting up commercial phone system applications on their phones or software on their PCs. Most of these issues are not a result of faulty equipment or installation errors. Rather, they're nuisance problems that sometimes occur from end-user error or convenience features that offer unique productivity benefits to the specific user and/or business.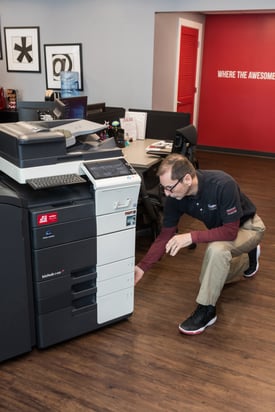 Printer issues were the second-largest field service request. As a provider of not just IT support, but also managed print services we deployed certified printer technicians to address printer and copier issues, install toner, and confirm that print, copy, scan, and fax functions are integrated with other systems as needed for unique business processes.
Other issues that required an on-site technician included problems related to internet service provider outages and problems resulting from something physically broken on the hardware.
For example, one user lost network connectivity, and when she tried to reconnect the network cable the metal part of the plug fell inside the desktop PC. Tony took the call around 8:15 am, and John was on-site by 8:50 to repair the hardware and had the user back on the network by 9:00 a.m.
Proactive Network Monitoring and Maintenance
31% of the Service Team's activities the week of June 23 were proactive, either regular maintenance of customer networks or responding to alerts generated by network monitoring systems.
Device & Network Monitoring
We monitor almost 3,000 devices (PCs, laptops, servers, firewalls, etc.) for about 150 businesses. That means a monitoring application installed on the device alerts the Service Team to issues like low disk space or failing hard drives. These types of issues eventually impact the end-user, but monitoring alerts allow the service team to address potential problems before they impact the business.
The monitoring program is also connected to antivirus programs, which often allows the team to address virus and malware infections before the user knows they've been infected. In some cases, the monitoring system cleans up the malware automatically and simply alerts our team to confirm that the device or network appears to be in working order.
Backup Alerts
Managed backup devices also generate alerts when backups fail or go offline. This is frequently due to rebooting a server, changing virtual server host, or inconsistent internet connection.
Server Maintenance
Device maintenance is the final piece of proactive activities. Every managed server gets quarterly maintenance to confirm it is functioning properly. While remote monitoring checks most of the maintenance items in real-time, a human check once per quarter is a good best practice to confirm nothing has slipped through the cracks.
Quarterly server maintenance checks:
Data backup
Antivirus
Available disk space
Logs for critical events and warnings
RAM and CPU adequacy
CPU activity
Examples from the Week of June 23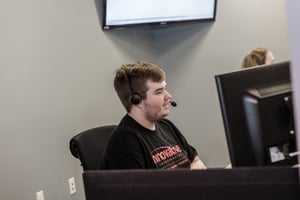 The week of June 23 the service team addressed 86 remote monitoring alerts. One was in response to a malware infection that was confirmed as automatically cleaned up and resolved by the monitoring program. Others were mostly related to low disk space, high CPU usage, and/or offline devices.
The service team also addressed 9 backup issues and completed 1 quarterly server maintenance that week.
All in all, the Service Team proactively addressed one or more technology issues for 37 companies. In many cases, these businesses may not even be aware that a correction was made or realize the magnitude of the problem they could have faced had the issue not been corrected.
The backup issues are a great example of this. Most of the 9 backup issues addressed the week of June 23 were related to backups getting stuck in a queue for one reason or another. Had that issue not been identified and the business suffered a loss, they could have a very well lost weeks if not months of data before realizing the backup had stopped processing.
Help Desk Service is Just the Beginning
Customer employees, or end-users as we like to call them, tend to interact the most with the Service Team. Their support is essential to alleviating the business owner from the responsibility of day-to-day IT support and keeping employees happy and productive.
BUT - the role of your IT vendor doesn't stop there. As a business owner, you're constantly thinking about where your business is going next. A quality IT partner addresses the day-to-day and helps incorporate a technology strategy into your business plans.
In Part II of this series, we'll outline the activities of Innovative's Strategy Team to demonstrate how an outsourced IT vendor works as the same type of strategic business partner as your attorney and accountant.