A Week in the Life of an Outsourced IT Vendor: Part II
Technology Strategy | Business Strategy | Outsourced IT Support
In Part I of this series we outlined the Service Team component of an outsourced IT vendor. The Service Team tends to see the most day-to-day activities from customers since they handle incoming help desk calls and emails. They resolve issues remotely or on-site at the customers' locations. Plus, they proactively monitor and maintain customer networks to address as many potential issues as possible before end-users ever notice a problem.
As you evaluate the benefits of working with an outsourced IT vendor, you'll want a good understanding of the process for requesting assistance and their guaranteed response and resolution times. Additionally, you'll want to understand what proactive steps the team takes to resolve issues before they impact business processes and productivity.
But it doesn't stop there - the Service Team is just one component of the relationship you'll have with a quality IT vendor.
To use technology effectively, you need an IT partner who is ingrained in your entire business strategy.
This is possibly the most valuable component of the relationship you'll have with your IT vendor, but it may be difficult to picture exactly what this partnership will look like.
This 3-part series provides a picture of what an outsourced IT vendor does and shares real-life examples from Innovative, Inc.'s activities during the week of June 23-29, 2019.
Each part of the series features one of Innovative's three customer-facing teams - Part I: Service Team, Part II: Strategy Team, and Part III: Project Team.
Part II: Strategy Team
Strategy is essential to the success of any partnership between a business and its IT vendor. Regular, strategic discussions around your business plans and growth are essential to your ability to maximize the return on your technology investments.
Innovative has a team dedicated to strategy, but even smaller vendors should sit down with you at least once or twice each year to review your business plans.
Each of our customers is assigned a Strategy Consultant who is responsible for driving IT strategy in the customer's business, much like a CIO would do for a larger enterprise.
It's her job to understand your business, understand the technology you're currently using, and make recommendations that:
Keep your business operational
Maintain data security and compliance standards
Allow for growth and scalability
Every vendor has their unique approach to IT strategy, but you should understand their process and be satisfied that they approach technology with the above priorities in mind.
Technology Strategy begins with documentation
Your vendor should maintain accurate documentation of all components of your network. This is done through both a physical inventory and network scans that detect everything connected to your network.
Pairing IT and Business Strategy
With an understanding of your business objectives, your vendor can talk through each part of your network and make recommendations for when to plan and budget for replacements, upgrades, and even potentially remove devices or applications.
At Innovative, we call this your Strategic Technology Plan. It is a living document that records the suggested replacement schedule for every device, license renewals, compliance requirements, and network security components. It also documents the following recommendations based on the needs of the business:
Priority Action Items – Things that must be addressed immediately to maintain minimum functionality and security.
Current Year Action Items – Planned maintenance, replacements, and projects to accommodate identified changes in the businesses within the current year.
Next Year Action Items – Planned maintenance, replacements, and projects to accommodate identified changes in the businesses next year.
Items for Consideration – Recommendations to consider based on specific changes in the business or ideas that could improve efficiency in the future.
Examples from the Week of June 23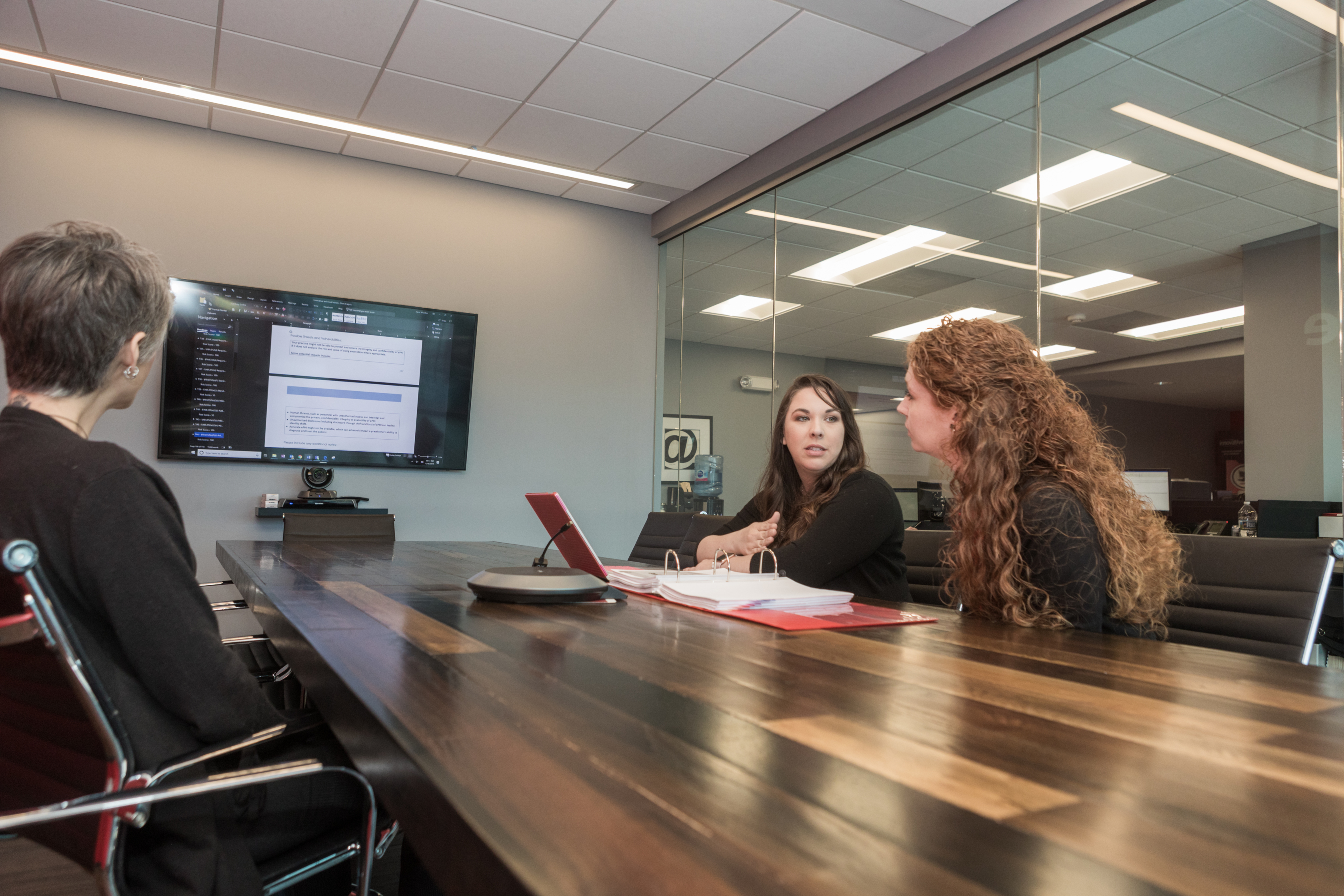 The week of June 23, Innovative's Strategy team held nine strategy meetings with clients, updated four Strategic Technology Plans, and completed monthly HIPAA network security scans for one large healthcare practice.
A typical Strategy Meeting includes:
Review progress on previously identified long-term objectives and short-term business goals. A long-term objective might be something like adding new positions, an office move, or new product line; and short-term goals could be a new training program or employee recognition award.
Discuss any new developments or initiatives in the business.
Discuss how IT systems and infrastructure could impact business objectives. The Strategic Technology Plan typically guides this conversation. This is where your IT partner should tie in your long and short-term objectives with IT needs. For example, will your current infrastructure support the increased traffic of the 10 new employees you plan to add over the next three years? Or, do you currently have enough bandwidth to support multiple employees streaming online training videos at the same time?
Prioritize action items.
Most of the immediate action items our Strategy Team discussed with customers the week of June 23 were associated with the upcoming end of life dates for various Microsoft products. While many of our customers have already migrated to current versions of Microsoft Windows and Server operating systems, others have waited until closer to the January 14, 2020 end of life date due to budget constraints and compatibility issues with other applications.
For example, one of the clients Innovative's Strategy Team worked with the week of June 23 is still using the Windows 7 Professional operating system on all their workstations. They must upgrade to Windows 10 before the product's end of life on January 14, 2020. However, they utilize an older accounting software that is not Windows 10 compatible. Since the accounting software vendor was bought out by another company, there is no Windows 10 compatible version of the same software available on the market.
This is a great example of where IT meets business process.
The business must upgrade the operating system to Windows 10 before January to maintain data and network security.
The current accounting software will not operate on Windows 10, and no compatible update of the current software product is available.
To update the operating system, this business must also migrate to a new accounting software.
Additionally, their workstations are five to 8 years old, meaning the devices themselves are either at or beyond their expected life span. So, it is more cost-effective to replace the devices rather than investing in operating system upgrades.
In this case, the business's current applications, processes, and devices turn a seemingly simple Windows update into a more complex IT project.
A project like this one requires not just a cash investment in equipment, but also an investment in migrating accounting data over to a new software provider, developing and training employees on a new accounting process and software, as well as some brief business downtime to replace the devices and migrate the data.
What to Expect from a Strategic IT Partner
Choose an IT vendor you trust to stay ahead of things like end of life dates and understands the implications to your specific business. It's their job to guide you through planning and budgeting ahead of time for changes like the Windows 10 / accounting software example.