A Week in the Life of an Outsourced IT Vendor: Part III
Technology Strategy | Business Strategy | Outsourced IT Support
Welcome to the third and final installment of our three-part series demonstrating the types of services you should expect from a quality outsourced IT vendor.
Part I outlined the support you should expect from a help desk and service team, and Part II showed how your IT vendor should advise on business strategy.
Now, we're featuring the third element of service provided by an outsourced IT vendor, project management and implementation.
Part III: Project Team
Projects are pre-planned, scheduled activities, like new device installation, software migration, cabling, etc. This role might be filled by the same team that handles your day-to-day support. However, when you're evaluating an IT partner, it is important for you to understand how they maintain the capacity to respond to daily requests while meeting their pre-scheduled project commitments.
Innovative, Inc. manages this by separating the Support and Project teams into two groups. There is some flexibility for team members to help with both Service Team and Project Team activities during peak times or vacation coverage, but for the most part each team sticks to their role. This allows us to meet project deadlines while keeping the Support Team available to meet our Service Level Agreement (SLA) commitments for day-to-day response times.
Just like some IT vendors may specialize in only day-to-day help desk support, others offer only project work. However, at Innovative, we found that projects that resulted in the greatest success for the customer were projects scoped through strategy discussions.
In our service model, the Strategy Team identifies and prioritizes projects with the business and the Project Team implements that plan.
For example, in Part II we mentioned a customer using Windows 7 and an accounting software not compatible with Windows 10. The Strategy Team identified that the customer needs to upgrade to Windows 10 before the January 14, 2020, Windows 7 end of life, and documented that their accounting software is not Windows 10 compatible. The week of June 23, Emmy discussed options with the customer and the Project Team will implement the solution by installing new equipment, migrating the software, and the destroying old equipment.
Examples from the Week of June 23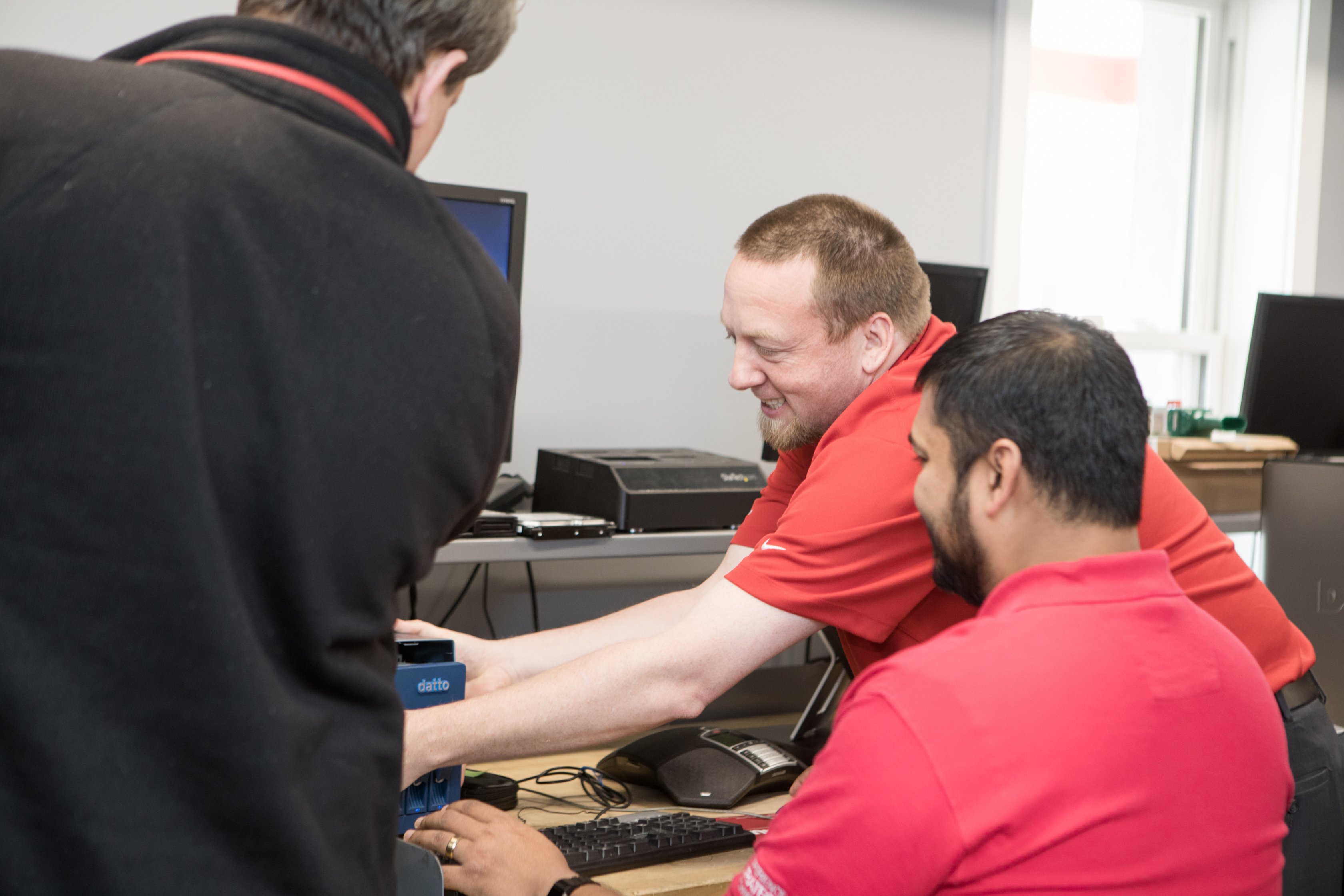 The week of June 23, Innovative's Project Team had 43 active projects in various stages under ongoing project management. Depending on the scope, an IT project can take a few hours or a few weeks to complete. So not every active project in the queue sees activity every single week.
This week the team completed the following activities:
Upgraded two client servers from Microsoft Server 2008 R2, which reaches end of life January 14, 2020.
Expanded an existing phone system.
Participated in a planning meeting with a customer preparing to switch internet service providers.
Installed a phone system administration panel to give a customer more local control over moving extensions between employees.
Installed cabling for a new phone system.
The projects above were identified through the conversations between the customer and the Strategy Team. Then they were prioritized as necessary to either maintain business operations or address changes in the business.
In our experience, this is the ONLY way to identify projects that are not only a good idea from a technology standpoint, but that also makes good business sense.
Summary of What to Ask Your IT Vendor
Hopefully, these examples of what to expect from a business IT vendor will help you evaluate the benefits of a relationship with an IT partner. While not every vendor will follow the same service model as the Innovative, Inc. examples, it's important for you to understand any given vendor's approach to those service components.
In summary, the key things to understand about any IT vendor you're evaluating are:
What is the Service Level Agreement (SLA)?

An SLA should include a commitment to a minimum hold time, response time, and issue resolution time.

What is the process for triaging an issue and escalating more challenging problems to higher-level techs?
What remote support capabilities are available, and how quickly will a tech report on-site if necessary?
Is there a network monitoring solution in place?

If so, how quickly are issues addressed?
What is the server maintenance schedule?

How often will you have business strategy discussions and how well does the vendor understand your business?
Who handles project management?
How does the team stay available for day-to-day support needs while meeting pre-scheduled project commitments?