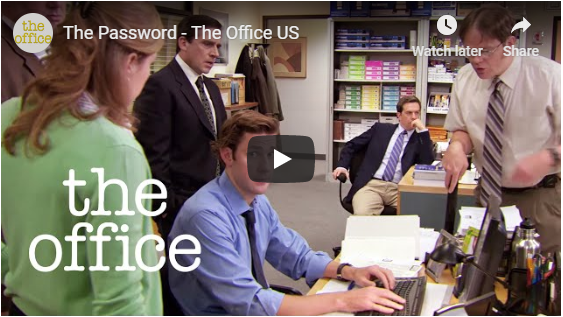 I'm currently re-watching The Office (US) for what feels like the 100th time. This time, I realized that some parts have a whole new meaning now that I work for an IT company that provides tech support to businesses like the fictional Dunder Mifflin Paper Company.
In this clip from Season 7, Episode 9, "WHUPF.com," Jim tries to reset the server after a power outage causes it to go down.
He's stuck and The Office can't do any work since he doesn't know the password to sign into the server. This causes Michael to recall all of The Office's former IT guys to determine who originally set up the server.
As Michael thinks through the list of IT guys backward from the most current by the nicknames he gave them, "Glasses, Turban, Ear Hair, Fatty 3, Shorts, Fatty 2, Lozenge, and Fatso," Kevin remembers that 'Lozenge' set up the server eight years ago. Michael recalls that whatever the password was made him laugh when he heard it but, "Pam got really offended." Jim ultimately enters Kevin's suggestion of "big boobz," based on Michael's clues. The password is accepted, the server is reset, and Dunder Mifflin lives on to sell paper another day.